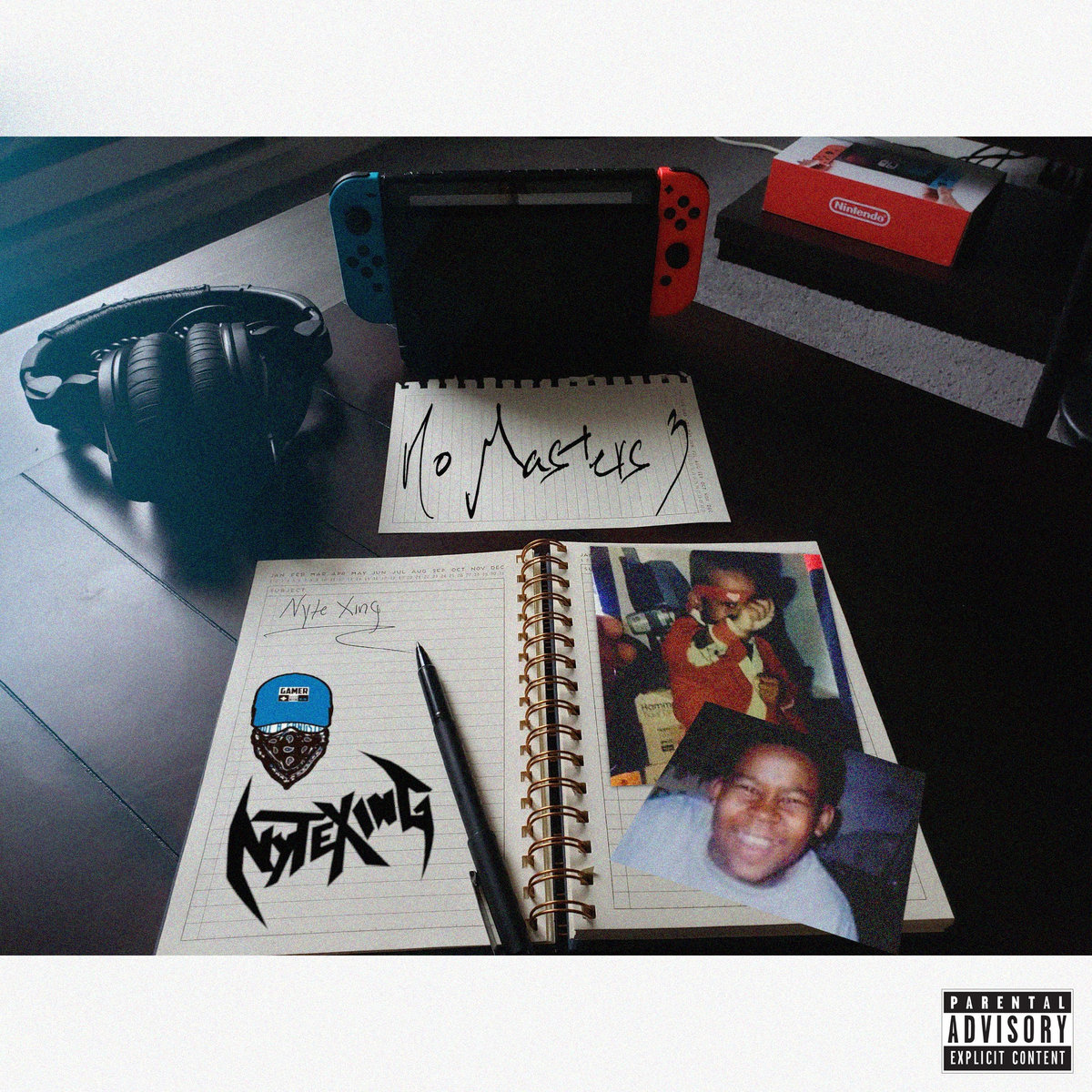 Editor's Note: The following consists of two reviews. One from T. Karras published 01/28/2020 and one from Jesse Curtis published 02/28/2020.
T. Karras:
It took me too long to get back to the mission/but the gem's in your mind so you can get the vision.

NyteXing – Preaching
East coast hip-hop had always had a sound that was unique, one-of-a-kind, something that you listen to and say "that's from the east coast!". Throughout the years however, others adapted the east coast sound for themselves and trap took over and influenced the most dominant production on radio right now. East coast hip-hop is now known not for it's production style, but for the rappers who represent it but what if east coast hip-hop had continued to evolve and grow right under our noses? What if east coast hip-hop could still have a distinctive sound? Well that's what NyteXing has done with his latest mixtape "No Masters 3".
Conforming to today's definition of the mixtape, this 21 track monster takes him to every part of the globe but retain a consistent theme and quality production throughout. The production behind the tracks have the feel of Meek Mill mixed in with an interpretation of what Rawkus Records would sound like if they existed well into the future. With it's combination of hard drums, detailed synths and organic instruments, it paints a blueprint which'll likely inspire those who are listening and provides the perfect background that NyteXing rips his raps on. Many modern hip-hop records don't know what they want to be but this one is clearly an east coast record, which is a plus when it comes to it's identity and it's also a plus when it comes to the diversity of the project.
A lot of what NyteXing does can best be described as NY rap meets the modern times meets geeky/nerdy topics, never sticking with the same style, always mixing it up with different types of songs, different rap styles and different topics. One moment he's rapping about living the hard life as a street nerd in Philadelphia while the next he's talking about the otaku life while another he's rapping with Bronx rapper Mickey Factz (a noticable grab and a win for the nerdcore scene in general considering his stature) boasting about the successes in life. There are many directions NyteXing can go without ditching the signature style he has developed, and he does it in this album with exceptional results.
The struggle to be recognized as a legitimate force in hip-hop and the journey to find worth as an independent artist are major themes within this mixtape and he reps that subject with as much integrity as honor as any major label artist out there. His flow is gruff and rough and matches the production of the songs effortlessly; you can feel his soul, you can feel his heart and most importantly, you can feel the honesty as he gives everything that he's got. You can tell from the entirety of this mixtape that this being notable in nerdcore is his ultimate goal and his music is his life's work, that my friends is a really good thing.
Yeah, I'm guessing they looking clueless/cause I spoke it's true existance, my lyrics are geting fluid

NyteXing – Shine
There are a tiny amount of flaws with the mixtape, nothing too jarring but something that should be noted. For one, this mixtape is marathon length, meaning it's longer than the usual nerdcore albums you find. You need to find the time to truly listen to it and truly understand what it is, while 90% of the songs are great, those who have short attention spans can find themselves wanting to move on but have to sit through the 21 songs that comprise this mixtape. It's not a major flaw but it's just something to note; same goes for the 2-3 "could of been better" songs on the album. My fault is not with the lyrics but with the beats but even then, that is subjective and I'm pretty sure there is going to be a huge majority of people who'll find the songs enjoyable.
Overall, this mixtape is a success. There is a clear vision with what the mixtape wants to be, a clear production style which makes the mixtape distinctive and rhymes that more than hold their own. NyteXing has gone above and beyond to make a mixtape that is more than it's sums exempt a few flaws and that is commendable. If you're looking for some stuff that mixes the street with the geek than this is for you!
Jesse Curtis:
There's no doubt in my mind that artists like GR3YS0N (formerly known as NyteXing and Maverick Da Ronin) are the next evolution of Nerdcore Hip-Hop. His album, No Masters 3, is definitive proof of that. There are many artists out there who are working hard to level up the genre, and GR3YS0N is at the forefront of that movement. His latest effort isn't perfection, but his ronin spirit and tireless work ethic are taking his music in an upward trajectory.
GR3YS0N (Real name Matthew Mosely), from Bethlehem, PA by way of Brooklyn, NY, has been active in the Nerdcore Hip-Hop scene since 2014 when he dropped his first full-length album No Masters. He's keeping his creative fire burning hot, having released eight more albums and several EPs since. The east coast influence is strong in his beats and his flow. Mosely is heavily involved in his local music scene. He runs the Starcity showcase event twice a year, bringing talent from the Leigh Valley area of Pennsylvania together for one big show.
Mosely has worked with the likes of Mickey Factz, Richie Branson, Mega Ran, and many others. He lives by the motto "gamer, not a gangster," but don't let that fool you. Mosely is as sharp a lyricist as anyone with a flow to match and is willing to back it up. With such an extensive catalog of music produced in such a short period, there's hardly anyone in Nerdcore, or any genre working as hard as he is.
An arsenal of bangers
No Masters 3 shows how GR3YS0N has evolved as an artist over the last six years. He's brought an arsenal of bangers (Preaching, Be a King), anthems (GNAG, Shine), and introspective journeys (Embarrassed, Sleep). The album comes in at a whopping 21 tracks and 70+ minutes. With that kind of depth, nearly any Otaku, Nerdcore, or Hip-Hop fan should be able to find something to enjoy.
The Otaku/Nerdcore vibe is strong in NM3, with tracks like Hokage, Streets of Rage 2, and Plus Ultra prominently featured. However, GR3YS0N is a master at lacing references into his rhymes in a way that doesn't feel forced. He doesn't hide anything, proudly displaying his love for gaming and anime— but he's honed his craft to the point where those things come through naturally instead of feeling in-your-face or unnatural.
GNAG (Gamer Not A Gangster) is my favorite track of the whole project and should have been the anthem most of the marketing of the album stood on. I get it, you've got Mickey Factz on Pardon Me, and you need to take advantage of that built-in audience. It's a fabulous, catchy song in its own right. To me, GNAG is the cornerstone to build on— that's the single people need to hear. The features throughout the album are mostly solid, especially Crimson Alchemist. Her bars on Heroes Saga 4 were a pleasant surprise and enjoyable. Also… those Missy Elliot vibes!
A solid foundation to build on
While GR3YS0N is undoubtedly evolving as an artist, some things hold No Masters 3 back from perfection. There are a couple of tracks, For My Hustle, in particular, that sound a bit muddy compared to the rest of the album. Too many tracks rely on the same structure of Chorus-verse-chorus-verse/feature-chorus. It makes songs sound too familiar or repetitive as you move through the tracklist.
The "slash" gimmick is relied on too heavily. I know a lot of rappers have them— Snoop Dogg, Method Man, and countless others. Having catchwords/phrases is fine, but should be used sparingly. On Make It Out Alive, I would prefer to hear the chorus performed by someone with R&B chops. That one change would make all the difference in the world for an otherwise quality track.
Also, 21 tracks on an album is a lot to listen to in one sitting. I bet it's hard to cut tracks down when you feel good about all of them. Perhaps saving some of those for future projects would be more prudent in order to put out an album that someone can easily listen to front-to-back. I believe GR3YS0N has a great foundation to build on going forward. Some extra time to polish things up here and there will take his game to the next level.
Should you buy No Masters 3?
GR3YS0N puts his heart and soul into his work, and it shows. No Masters 3 manages to entertain from start to finish. East coast beats blend perfectly with energetic bars and the right amount of Nerdcore seasoning. Even the areas where the album loses a little ground shouldn't be enough to deter anyone from hearing this talented emcee bring the house down and explode their headphones with his thunderous anthems.
Despite it's few flaws, NM3 is exactly what the Nerdcore scene needs— a roadmap to take the genre forward into places no one thinks it can go. $10 is a small price to pay for all the value packed into an impressive effort that deserves to be heard.