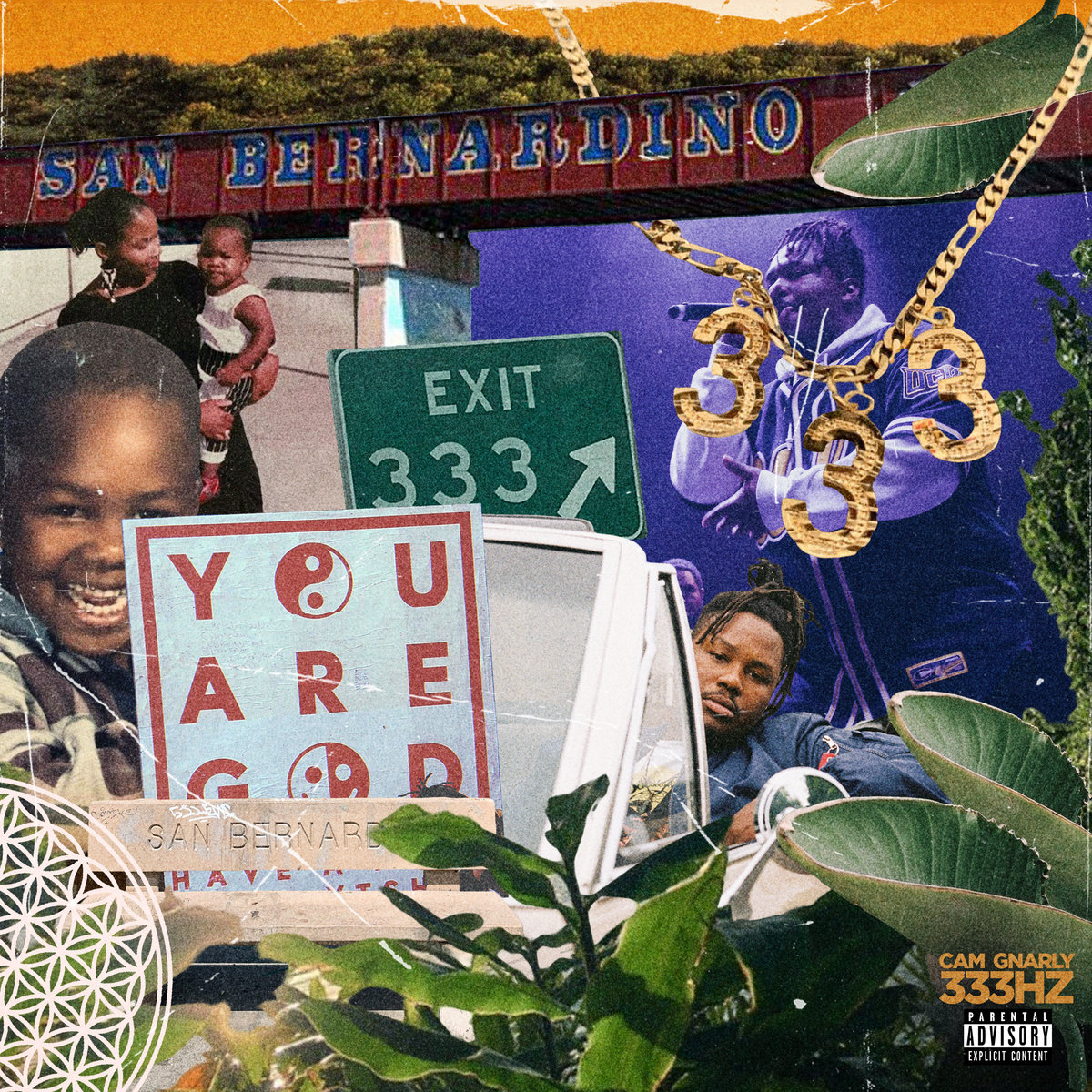 San Bernardino, CA or anywhere in the Inland Empire is not a place that is mentioned when it comes to hip-hop. Usually it's bigger cousin Los Angeles or any of the cities in Los Angeles county are mentioned when it comes to the west-coast sound. Make no mistake though, the Inland Empire has a scene of its own when it comes to hip-hop thanks to the environment and the people who make the scene different than the rest. Cam Gnarly has been a part of the pivotal IE Hip-Hop scene since 2012, maybe earlier and during his 8+ years in the scene, he has been evolving his sound, making connections, even opening up for Cam'ron once in 2019. He has put in hard work and sacrifice and all of that pays off in the form of the form of "333HZ", an album that's IE to the fullest.
This album reflects the past and current realities of the city he lives in, San Bernardino. The city that somehow gets itself in the news every single day either for corruption, for poverty or for the high murder rate it has become known for surpassing gangsta rap home Compton. Anybody who's visited San Bernardino can sense what these people are talking about but Cam Gnarly, who actually lives in San Bernardino, weaves street tales effortlessly and successively forming a narrative that is compelling to listen to. Every song reflects a portion of himself ranging from chill vibes to heartfelt to cautionary and those portions form experiences that reflect not only the artist, but about the culture of the city itself.
In comparison to his past album "Gnarvana", the beats in "333HZ" are more street oriented, raw and somehow smooth and melodic. They sound as if Mustard met Premiere and had a baby and despite all odds, it works for the album. Every beat has a certain feel to it, meshing well with whatever street tale Cam Gnarly is weaving; the backgrounds and elements combine to form epic backdrops that complete whichever song it's on. The beats may seem different compared to what you're listening to but honestly, they're reflective of the environment he was raised in and they project not only the environment Cam is in but puts Cam front and center, making him the star of the show.
Though it's short, the 10 tracks throughout the album have consistency with each other in terms of mastering and sound, each track has a level of grit that establishes the song and while songs have the perfect amount of grit, some songs tend to be too gritty when compared to the rest; despite that, the intentions of the album comes through loud and clear thanks to the variety of song styles used and the thematic elements at use here. Very few rappers can create an album that platforms not only themselves but the very area they from so to see Cam create an album that is just like that is refreshing and it shows how much of a success "333HZ" actually is.
"333HZ" is the embodiment of Cam Gnarly and his experiences in San Bernardino. The embodiment of all the pain and sacrifice, all the good moments and all the fear and doubt that comes from living in the ghetto. While Inland Empire hip-hop will always be in the shadows when it comes to west coast hip-hop, the struggle over there is real. In places like Moreno Valley, Rialto, Riverside, Victorville and Jurupa Valley, they're also making similar kinds of hip-hop and despite all the efforts, the scene hasn't blown up in the same vein as N.W.A.
So if you're looking to venture into a different area of the west coast that is as populated but isn't as popular and if you're looking to support the IE platform than this would be a good starting point. Cam Gnarly is one of the best Inland Empire rappers out there and "333HZ" is one of the best San Bernardino rap albums out there. Whether it's boom bap or rachet or anything in between, you'll find it here and if you wanted to know what San Bernardino is all about then well, you'll also find it here… What I'm trying to say is that though the Inland Empire is not as popular as Los Angeles yet, it's time is coming and it's all thanks to rappers like Cam Gnarly and albums like "333HZ".