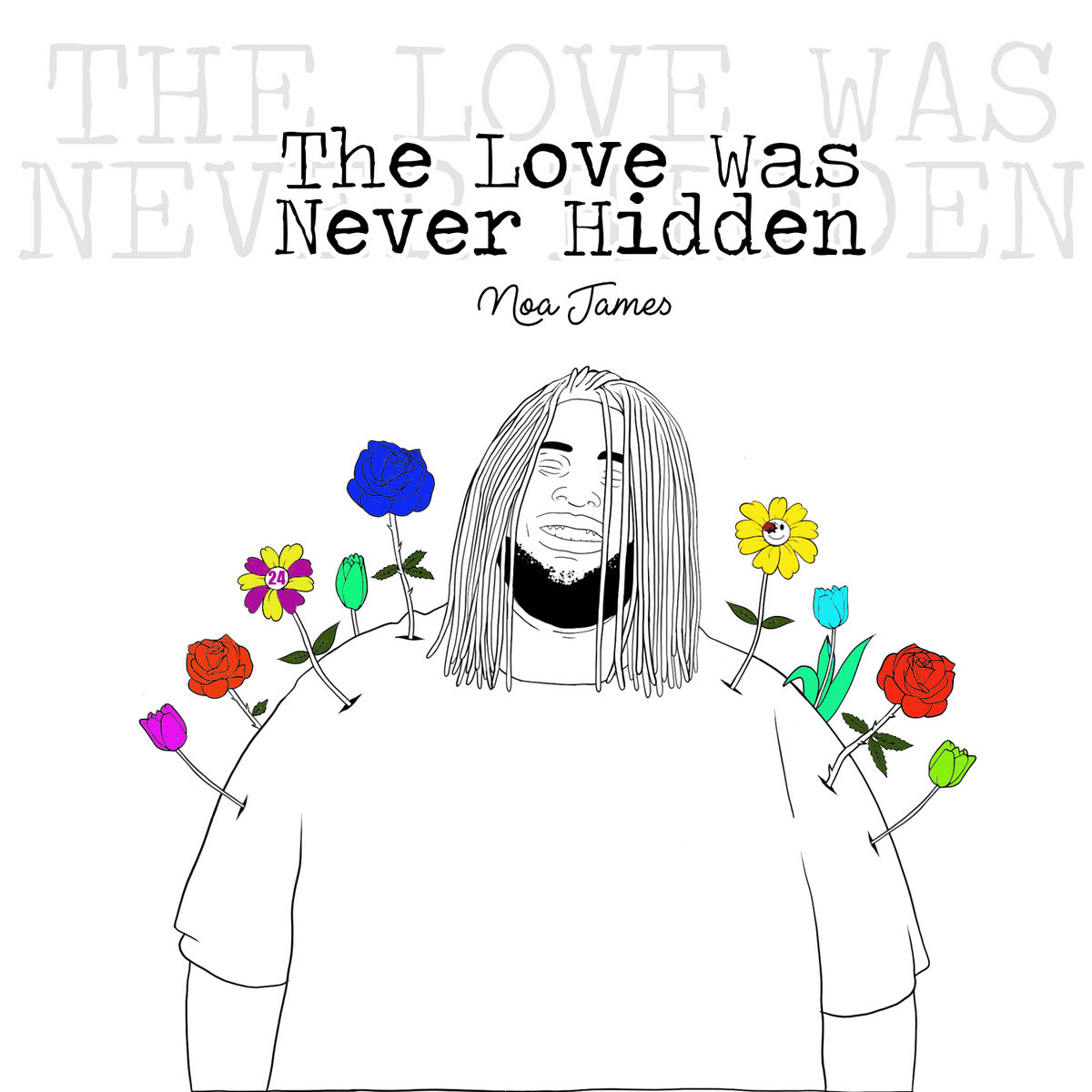 Peace and self-love is one of those universal concepts that appeals to everyone. There are lots who incorporate it as part of their life but seldom few who incorporate it as a part of their act. Noa James (born in Jamaica, Queens, NY but currently resides in San Bernardino, CA) is one of those people whose anger to inner peace story writes a plethora of his musical material. He is a rare individual, choosing to focus on the people and the art rather than the popularity and the fame that often defines the genre as a whole which helps establishes his legacy throughout the Inland Empire hip-hop scene.
"The Love Was Never Hidden" follows a formula that he himself has defined. Songs dealing primarily with Zen and self-love, abstract production and a short running time. Throughout the album's 7 tracks, Noa effortlessly flosses his life story of how he came from anger to hate and how you could achieve the same thing for yourself utilizing a slow style that emphasizes his breathy, commanding vocals, unique rhyme structure and atmospheric, vibrant beats. This is a formula that works effectively well as it gives focus to the concept that wraps together the album and allows Noa to focus on his autobiographical educational lyrics that mesh well with the production that forms his signature style.
Noa James' life story will have you entranced as he lays lines about how he came from the slums to be one of IE's most respected rap legends. The way he flosses his lines is professional and unique at the same time as he twist his words with a flow that's melodic and smooth, his voice may not be the best but he can show aggression when necessary and empathy wherever he can. It's like a swiss blade that he utilizes in order to tell his inspirational story that plays out like one of those books that you find in Barnes & Noble but in the form of a movie where you can feel the emotion, you can feel the pain and you can feel the love.
The instrumentation suits Noa like a glove and really allows him to showcase himself in the fullest and rawest form possible. Utilizing melodic synths and common rap tempos, he creates a sound that is as positive as possible, yet menacing and deep. Every song varies from experimental to more common tracks, many of them utilize synths while some of them experiment with more organic instruments such as horns and pianos and the overall tracks of which they're presented in is musically complex and deep. This makes the songs more emotive than what you'd normally expect from rap making Noa James one of the most soulful rappers out there to date.
One thing that's commendable is the idea of mixing in self-healing with rap. The ideas of zen, inner peace and moving on are ideas that are seldom seen in hip-hop so to see them presented in this kind of package is not only ballsy but innovative at the same time. While self-help and hip-hop are not the perfect pair, Noa forces them together in a way that's both musically inclined while therapeutic at the same time. Not only is Noa facing his own demons by making and releasing this music, he's also helping you by your own listening of his music. This type of music is representative of the therapeutic experience of listening to said music; relating to a story that helps you get past your own problems, listening to beats that just relax you as they play and the feeling that you get afterwards is such a rewarding experience that few people seem to understand. Noa James' album seems to understand this idea very well and it helps to strengthen the album in this world of music that only seeks to entertain and that's it.
Noa James is in a sense of the word, an "artist" and "The Love Was Never Hidden" is an exceptional project that manages to succeed on so many levels despite it's short length. Though not for everybody, it's experimentation really helps to excel this album to new heights in musical entertainment. This album and the artist is multi-faceted and multidimensional and deserves at least your attention. While it's experimentation may hinder the albums success, Noa James has went to lengths in order to make this and in the end, isn't that all that matters?