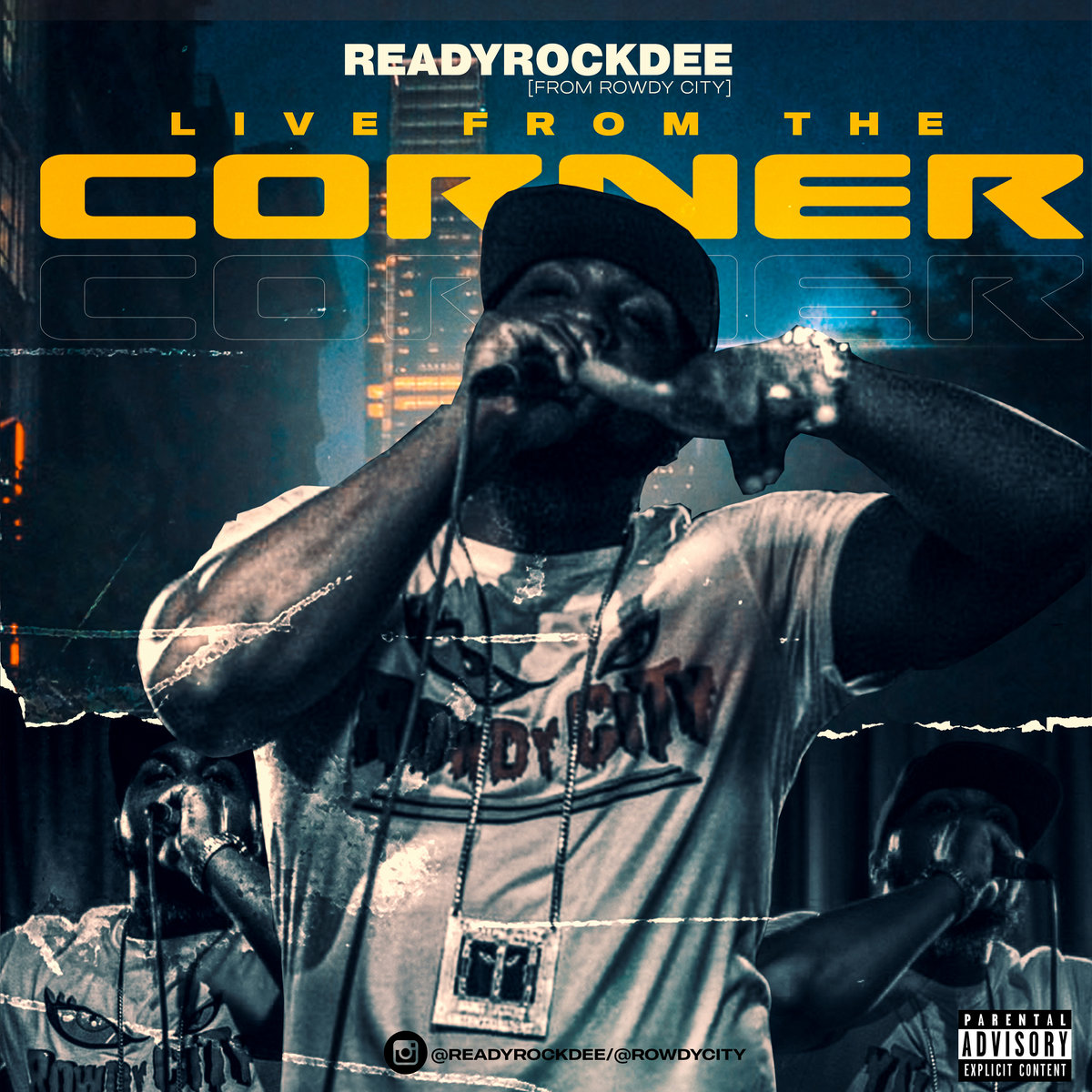 It's rare that you find a gem in the rough when it comes to hip-hop. While there's always going to be the next Jay-Z or the next Nipsey Hussle, finding them is a challenge even if you know where to look. Luckily I stumbled upon ReadyRockDee who has ambitions to take over the hip-hop scene with his debut album "Live From The Corner", an album that seeks to takes him and his Rowdy City collective to the top of the scene.
Originally from Yonkers (home of The LOX) but currently residing in Connecticut. ReadyRockDee has lyrics that remind you of East Coast's greats, beats that sound like the classics of East Coast's yore but a flow that'll instantly remind you of Nipsey Hussle. Flossing over hard drums, soul samples, piano loops and some original synths, he spits about his life in a dense and lyrical matter, proving to all his contemporaries that he's as hard, if not harder, than his peers; he also flosses some inspiration and reflection in the lyrics giving depth to the subject matter much like Nipsey did when he was alive and painting vivid colors into his otherwise bleak life.
While drug dealing, hustling and trying to survive are hip-hop mainstays. ReadyRockDee gives it a unique spin with his lines never verge into gimmicks as he talks that talk and walk that walk. Incorporating old-school style with new-school swagger, he invites you into his world which is instantly empathizable even if you haven't listened to hip-hop with his voice that is in between high-pitched and gritty which gives emphasis and weight to the words that he speaks on which he not only talks about what he did but how he thinks of the generation that thinks hip-hop is a meme, a genre designed not to express the plights but to make money off of which in itself is admirable and ballsy.
There is a lot of introspection and thought throughout the lyrics that demand your attention, giving a personal vibe to what would otherwise be the same old story… He makes it clear that he put in the hard work, put in the hard knocks and even thought about how he would educate the youth that would be listening to this, showing once again that only the most devoted can reach the higher levels. His words teach you that it's not about fame or fortune, that it's not about a persona, that it's not about being hot but about being successful, stable and finding a better life than the endless cycle that precedes a lot of rappers in this genre.
The production will instantly remind you of the past but that's a part of his mission and the beats are ultimately head nodding and hard enough to support the lyrics that ReadyRockDee is spitting without him seeming like an oldhead or an inexperienced newbie. With its variety but familiarity, it'll most appeal to the old hip-hop fans who value lyricism over gimmicks but somehow attracting a new audience with it's East Coast vibes that are seldom seen. It reminds you of the days when 50 Cent and Jay-Z rapped over beats like these, when they'd take a sound and make it bassy and hard-hitting for the streets. Of course, the old v. new debate has drawn attention away from the legacy of said sound but ReadyRockDee can easily bring back that style of sound without even trying thanks to beats that are featured on the album.
Of course, there are some natural setbacks that prevent the album from reaching it's stride but those are mostly objective. For one, many people may want something more in the sound of the album, a more modern, detailed, textured, complicated sound. There are many rappers like Killer Mike, Vince Staples and Jay-Z who easily kill over modern beats made by the likes of El-P and No I.D. and even though he kills these beats like butter, more modern beats would invite a wider audience, though I believe this is not what he wants. Another thing is that the subject matter is dealt in a way that makes it feel somewhat generic, I say somewhat because his Nipsey like flow and inspirational lyrics more than pick up the pace for much of the album and will be the thing that makes the album successful; however, many rappers lived the same life, rap about the same stuff and some variety would be appreciated.
Otherwise, this is a pretty successful project in itself. ReadyRockDee is dedicated in his mission to bring real hip-hop back and by loading up this project with dope beats, dope flows and dope style, he manages to succeed despite the obstacles he faces and the opposition against him. The old style he sticks to may turn people off but if you're looking for the next Nipsey Hussle rapper or a project in that style then this is it. It's got everything you could possibly want except a modern sound and if you can manage to get past that then you'll find a gem who's going to be a star, and that I can guarantee.