I was never really a fan of Harry Potter. Sure, I read all the books and watched all the movies, but I didn't understand why it's so popular. Maybe it was being called Harry for 10+ years and all the jokes. Then I went to the Wizarding World of Harry Potter at Universal Studios in Orlando, FL, and everything changed.
The Wizarding World of Harry Potter has replicas of Hogsmeade and Diagon Alley. You can get to either one through the Hogwarts Express. Honestly, It's pretty amazing. For those of you who don't know, Diagon Alley is where wizards and witches would get their supplies for a new school year at Hogwarts. It is the home of Ollivander's Wand Shop. Hogsmeade is the town that is below Hogwarts. You can get a butterbeer there. Both of these replicas are right out of the movies. The attention to detail is crazy. If I were Universal, I would try and expand on this as their primary money maker.
Diagon Alley- get your very own wand
Courtesy: TampaBay.Com
It's 6 am and It's my Wife's birthday. Fitting since she is an enormous Harry Potter fan. I slowly get out of bed and get ready. We have early admission into the park since we are staying at Universal for the weekend. At 7 am, we walk through the empty theme park and look for the entrance. We come across the bus with the head (I don't know the name of it, I'm a newbie). Next, we walk into this opening in the wall and come around the corner. Suddenly, we are in the Wizarding World of Harry Potter and Diagon Alley.
First, we see the dragon on top of Gringotts, shooting fire at us. You can feel the heat melt your face off. I am instantly hooked— I didn't realize that this world was this rich. I wanted more and I hadn't even begun walking around Diagon Alley. As you walk, the Harry Potter theme plays. Employees dressed as wizards and witches ask you how you are doing. The Weasleys Joke shop is to your right. But there was one place we were determined to go— Ollivander's. I wanted my own wand damn it.
You step inside, and the wall is filled with wands. Interactive plain wands, made out of different materials (not really but for show), and then, of course, everyone else's wand. Dumbledore, Snape, Voldermort, Harry… EVERYONES. We spend a good 30 minutes looking at each wand. You open the box, and it is placed neatly into it, with horsehair covering it up. She settled on Leta LeStrange, and I went with Dumbledores from Fantastic Beasts.
Knockturn Alley awaits
We left the shop with our wands and walked around. The dragon melted my face some more, and I got stung by a bee, but I was in a new world, a world that is richer than I thought. I'm a big fan of worlds and stories, and the Wizarding World of Harry Potter has both. I just had to get past the Harry Potter jokes.
We stop in a dark hallway and see the sign. Knockturn Alley— YES! We go down into this barely lit area. A very weird witch walks past us, and I thought I was going to get mugged. We enter the only shop, filled with dark arts and wanted posters of Sirius and Harry. This was my place. Snape and Lucius are my two favorites from the movies (played by the brilliant Alan Rickman and Jason Issacs).
We leave Knockturn Alley, and it's time to head to Hogsmeade. With our tickets, you get to take the Hogwarts Express to either park. We go through the wall at Platform 9 and 3/4 and get onto the train. Dementors attack us as we sit and watch the projected image on the window. Harry helps us fight them off. On the other side of your cabin, they make it seem like people were walking by, and at one point, Ron eats a chocolate frog that got away from its previous owner. The train stops, and we get out.
Hogsmeade and Voldemort's assault on Hogwarts
Courtesy: Universal Studios Orlando
Hogwarts is the first thing you see as you exit the train. Sitting up on the cliffs, as it watches over you, it is just like the movies. If I were the owners of Universal, I would make it so you can go in. TAKE MY MONEY!!!!
Hogsmeade sits at the bottom like the movies. Sadly, there isn't much here. A poster of Sirius sits there in the town square, but the shops are all the same as Diagon Alley. It honestly feels like they wanted to put something here but didn't think it through. While there, I get some Butterbeer, and it was okay. A little sweet for me but still good. But the main attraction is what comes at night.
That night, there's a light show on Hogwarts. Voldermort attacks! As death eaters attack the castle, bright lights shine on the castle. Universal Studios set it up so well; it looks like the castle is under attack. As fire built on the castle and pieces went flying, we see Voldemort himself appear on the castle. A bright green face, he appears, saying, "Tonight, no one will question my power!" Then we hear the killing curse, "Avada Kedavra!" As Voldermort stops his attack, Dumbledore's voice sounds out, reassuring us that everything will be okay. He repairs the castle, and that was the end. We were thoroughly entertained. We then leave the park and go back to the hotel.
"His scar hurt no more"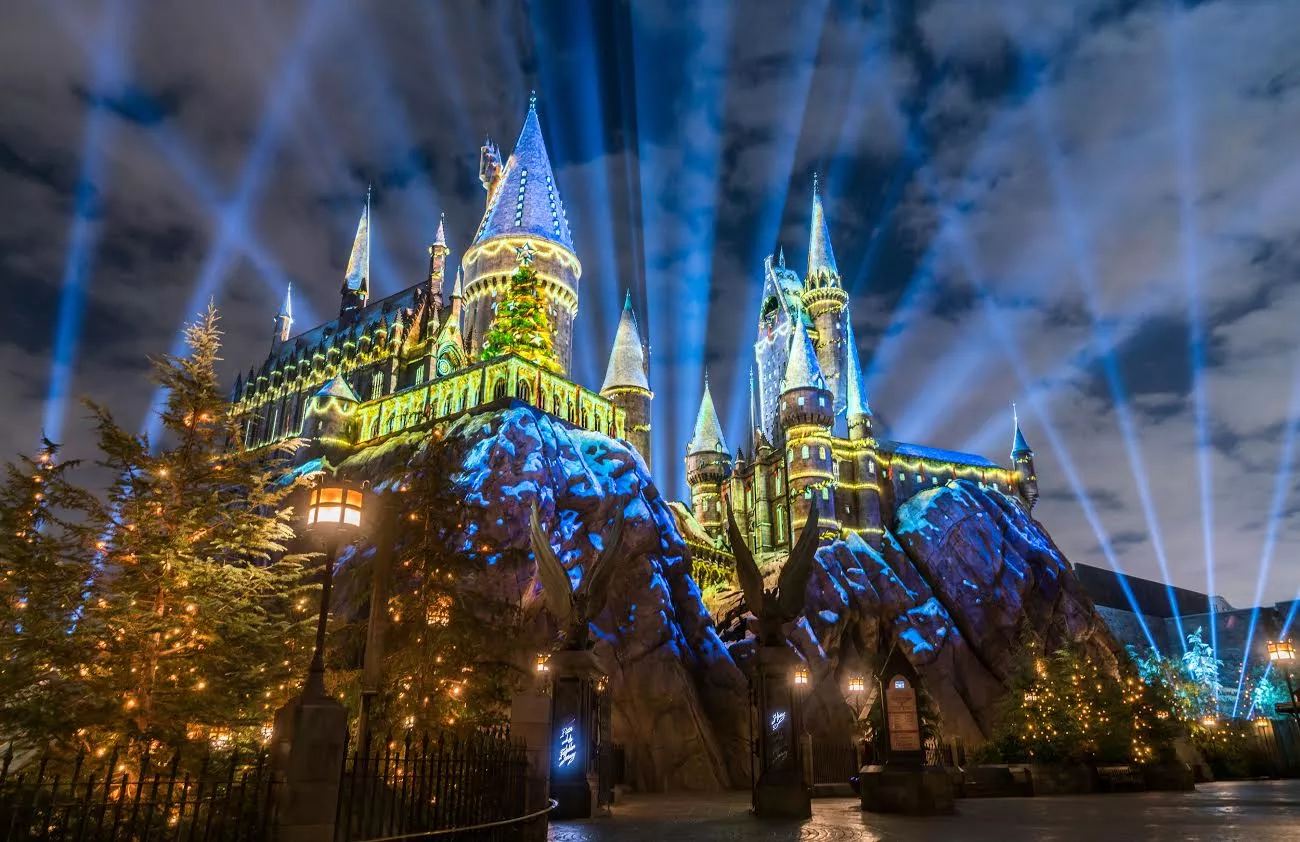 Courtesy: Orlando Weekly
Truth be told, the Harry Potter jokes no longer upset me. They used to be my lightning scar, but no longer. If I'm going to be made fun of for looking like the guy from one of the best stories and biggest franchises ever, then bring it on! I had to look past those to see how beautiful and enjoyable this world is. To be a part of it, for even three days, was enough for me to become a fan. Watching people walking around in their robes from different Hogwarts houses (I'd be Slytherin), kids playing with their wands, the different candies, and of course, the light show, make me love this world.
Eventually, I hope my daughter comes to enjoy this world. Years from now, I want to buy robes for us all and enjoy it as a family. I want to get a personal wand and have her pick her own house. Seriously, if you have never given Harry Potter a chance, try it. I re-watched all the movies, and they build up to the climax well. Truthfully, Not Avengers: Endgame well, but well nonetheless. Universal should consider expanding this world some more. It was the most populated part at the park (Jurassic Park was right behind it). All things considered, I am now a fan of Harry Potter and always will be.